Napa Valley's Frank Family Vineyards, located at 1091 Larkmead Lane, has opened its highly anticipated new hospitality barn, The Miller House. The Miller House honors the endless contributions of Founder Leslie Frank, born Leslie Miller, whose vision was to build a unique and special entertaining area for Frank Family guests. The Miller House showcases Leslie's signature chic style combined with the farmhouse elegance of renowned architect Howard J. Backen. It will serve as a canvas for the winery's most exclusive and elevated experiences where Frank Family wines will be poured alongside the cuisine of celebrity chef Christina Machamer.
"Leslie Frank is a former Emmy award-winning news journalist who has long served as one of Frank Family's visionaries," said Hospitality Director Liam Gearity. "She also exudes good taste and hospitality, so we were resolute in naming the new space after her from the start."
The Miller House rises over the vast Member's Lawn, behind Frank Family's craftsman home-turned-tasting room, inviting guests to taste their vineyard-focused wines and enjoy small, curated bites, while overlooking surrounding vineyards and mountains. Featuring sustainably reclaimed wood, high ceilings, and natural earth tones that bring the outside in, the space was expertly designed with no detail spared.
"Rich and I were actually married at this site," says Leslie Frank. "This is a very special location for me. I wanted to create a space that integrated the natural beauty of our surroundings, where our guests could experience the joy of nature here in Calistoga."
The Miller House allows guests to enjoy a seamless indoor-outdoor experience on the Napa Valley floor no matter what time of year. The 2,300 square foot structure features floor-to-ceiling sliding glass doors, custom-made recycled ash wood tables, large statement mirrors, artful light fixtures, and an inviting lounge area with cognac-colored leather sofas around a central fireplace. Frank thoughtfully selected each element alongside Napa-based interior designer Robin Beck of Hawkins Interiors. They combined the contemporary interior with an additional 1,100 square feet of exterior covered seating for tastings and private and winery-hosted events, where guests can be at one with the serene landscape of the valley.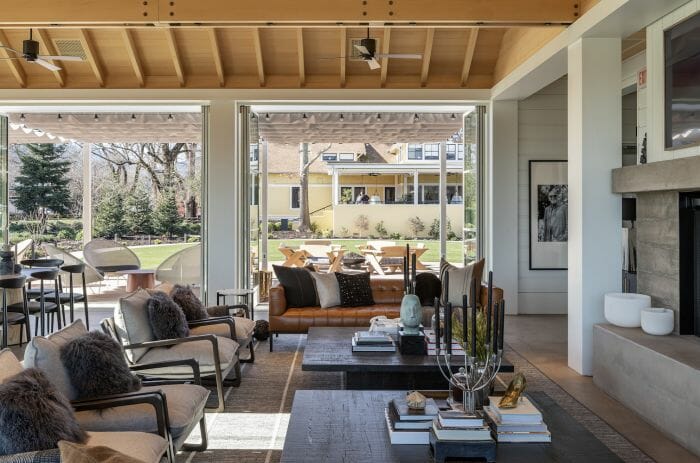 Chef Machamer, one of Napa Valley's preeminent chefs and winner of season four of FOX's Hell's Kitchen, has created a hyper-seasonal, authentic farm-to-table wine and food experience for guests of The Miller House. Each new pairing is hand-selected to demonstrate how the aromas, textures, and flavor profiles of Frank Family's estate-driven wines are accentuated by food. "I like to think of this experience as a masterclass on food and wine pairings," said Gearity, who along with his team of experienced wine educators will guide guests through each pairing and take time to explain why they work well together, providing fundamental pairing tips along the way that can be easily applied at home.
The ever-evolving menu showcases the season's best, highlighting locally grown ingredients, like home-grown Meyer lemon from Frank Family's Winston Hill or mission fig picked from the centurion trees at their estate Benjamin Vineyard in Rutherford. The tasting starts light with Frank Family's Blanc de Blancs and perhaps a homemade yeasted blini with caviar and cre'me fraiche. The pairings become progressively more umami driven as the tasting moves into the reds—such as sliced Spanish Fuet with Winston Hill Cabernet Sauvignon.
The exploration of food and wine offered at The Miller House is ideal for private groups or for guests who enjoy meeting others with shared interests in food and wine. The Miller House Elevated Experience starts at $120 per guest, $60 per club member. The outdoor patio is also available for seated Estate tastings, $60 per person, complimentary for members. Reservations can be made online at FrankFamilyVineyards.com/Visit and private event inquiries can be made at FrankFamilyVineyards.com/Private-Events.
Photos courtesy of Frank Family Vineyards